The community council has been asked to respond to an initial consultation concerning proposals to change the infrastructure of schools. The document is named Empowering our Educators and can be viewed on Argyll and Bute Council website. The community council found that they could not support the proposals as they felt this could be regarded as a blueprint for reductions on purely financial reasons, it also eroded the career structure which currently exists, and failed to address wider concerns.
There has been no change to the introductory date of the new legislation for fire and safety provisions in domestic premises. Interlinked alarms are required under the legislation by 1st February. Advice can be found on Argyll and Bute council website, or from local council members.
Be aware of many scams which are circulating, please check thoroughly the origin of any communication you may receive and if in doubt seek help from the authorities.
The AGM will be held on Wednesday 3 November at 7pm, it will be open to members of the public , subject to any restrictions at the time. The location will be Cowal Dog Club in Hunters Street, as previously advised.
It is intended to hold the Annual General Meeting early in November date to be notified soon. The location will be the Cowal Dog Club in Hunters Street and, of course, members of the community are welcome to attend.
A reminder that the new legislation concerning fire safety in domestic premises comes in to force next February. Interlinked smoke and heat alarms are required to be installed in every home, details are available on the Scottish Governments website. There are a number of suppliers for the units required, depending on whether these are hard wired or battery operated. Failure to meet the new standards may render properties unsaleable , or invalidate insurance policies.
Members of the community council attended a presentation on the Dunoon Project at the Boathouse 23/9. This was hosted by the prominent members of the consortium who are spearheading the project to bring development and hopefully rejuvenation to the town and immediate area. They have acquired through purchase the Glen Morag hotel, which will be used as a base for the next phase, planned to bring a cable car facility from the hotel to the top of Kilbride hill. This will give access to walking, mountain biking and many other activities. Many ideas were discussed at the presentation and it became very clear that there is a considerable local interest and tangible support for the project. It was particularly pleasing to see that Dunoon Grammar School students and headteacher were present and enthusiastic about providing support and input.
The project requires more support from the local communities and individuals. Some involvement is evident from Argyll and Bute Council, although this is limited by budgetary constraints.
For further information and contact details go to the website.
Register of Electors
If you received a form from us looking for information and haven't returned it yet a canvasser may call at your property, during September and October, to leave another form for completion. If you still have your original form you can make a return NOW.
Check your form for response options - internet, Freephone and text are quick and easy to use.
When calling at your property our staff will adhere to Covid-19 health and safety guidance. Contact your local office if you need further advice.
Argyll & Bute ero-abc@dab-vjb.gov.uk
Due to Covid-19 restrictions our offices are operating at a reduced capacity.
Following the easing of restrictions , it is now proposed to hold the Annual General Meeting on Wednesday 3 November 2021. The venue is the Cowal Dog Club hall in Hunters Street. The agenda as follows.
Chairmans report
Secretarys report
Treasurers report
Election of Office Bearers.
On conclusion, the first regular monthly meeting will be held agenda as below:
Welcome
Apologies
Declaration of Interest
Minutes of the last meeting
Police report
Councillors report
Treasuruers report
Planning applications
Any other business
Date of next meeting.
For information, monthly meetings will be held on the first Wednesday of each month at this venue.
The easing of the Covid restrictions will hopefully bring about some normality to the business of the community council. It is hoped soon to announce a date and setting for an Annual General Meeting at which members of the public will be most welcome.
There have been short meetings of council members, but these have been informal, no minutes have been taken, but a brief record maintained.
There has been an increase in the number of scams appearing in recent weeks. The best advice if you suspect a scam, is, if in doubt - don't!. The range and sophistication of current scams is concerning, if you receive a communication you are doubtful about, under no circumstances connect with any link on the communication. If you wish to check the authenticity of anything you receive, then do so via an entirely separate method. Seek advice from the police, friends and family BEFORE doing anything.
With the election fast approaching, you can opt to vote by post or proxy. Details are available on the Argyll and Bute Council website.
here is a £250 School Age Payment available for eligible parents, refer to the Council website for details.
Surveys are being conducted seeking the local business views and also on the publics views on local taxis and private hire.
Due to the ongoing problems with the A83, individuals can continue to provide their views etc through the transport Scotland website.
---
Argyll and Bute Council are seeking community views on the management of cemetries. Details can be found on the council website.
MINUTES of MEETING of Cowal Transport Forum held by SKYPE
on Monday, 16 November 2020
Present:
Councillor Alan Reid (Chair)
Councillor Bobby Good
Councillor Jim Anderson
Attending:
Gordon Ross – Western Ferries
Iain Slorach – Client Manager, Calmac
Tommy Gore – Area Operations Manager, Calmac
Iain Catterwell – Timber Transport Group
Chief Inspector Douglas Wilson – Police Scotland
Neil MacFarlane – Transport Scotland
Murray Rogers – West Coast Motors
Cathleen Russell – Colintraive & Glendaruel Community Council
Iain McInnes – Lochgoil Community Council
Graham Revill – Kilmun Community Council
Wyllie Lynch – Dunoon Community Council
Gordon Ramsay – Transport Scotland
Scott Brown – Jacobs
John Redpath - Jacobs
Jeff McCormick – West Coast Motors
Melissa Stewart – Governance Officer
Ronnie McAlister – Bute Community Council
APOLOGIES FOR ABSENCE
The Chair welcomed everyone to the meeting and introductions were made.
Apologies for absence were intimated by:
Councillor Audrey Forrest
Paul Paterson - Kilfinan Community Council;
Stuart Watson – Assistant Network and Standards Manager, Argyll and Bute Council;
Alistair McLundie – Western Ferries;
Michael Breslin – South Cowal Community Council;
Martin Arnold – Contract Officer, Argyll and Bute Council; and
Marta Zawadzka – Community Transport Officer, Argyll and Bute Council.
DECLARATIONS OF INTEREST
Councillor Bobby Good made a financial declaration of interest in item 7 (a) on the basis he is a part-time employee of West Coast Motors. He remained in the call taking no part in the short discussion.
MINUTES
The minute of the meeting of the Cowal Transport Forum held on the Monday 24 August 2020 was approved as a correct record.
FERRIES UPDATE
Caledonian MacBrayne
The Forum noted that sailings were back to a two vessel timetable which would be continued into the winter period with an amended timetable in place to accommodate the Gourock linkspan works where works were progressing well with completion on schedule for mid-December.
The Forum also noted that passenger carries were down to 54% for September on the Dunoon/Gourock route but 99% of sailings were on time and 88 sailings cancelled due to adverse weather. In respect of the Colintraive/Rhubodach route there has been no cancelled sailings but there was a big dip in carryings.
Calmac representatives confirmed that the late night sailings on a Friday and Saturday would be resumed once the opening time restrictions on licensed premises had been lifted.
Discussion focused on the deployment of the Coruisk. She is currently deployed on the Rothesay-Wemyss Bay service, but will be available for the Dunoon-Gourock service once the Gourock linkspan works are completed. When either the Ali Cat or the Argyll Flyer are in dry dock during the January-March period, the Coruisk will be deployed to cover the sailings normally operated by the Ali Cat and the vessel which is not in dry dock will be deployed to cover the sailings normally operated by the Argyll Flyer.
Outcome
The Forum;
noted the positon; and
agreed that Calmac would notify the Forum as soon as the linkspan works are completed.
Western Ferries
Gordon Ross updated the Forum that periods of inclement weather had resulted in a small number of sailings being cancelled and a small issue with a vessel had been quickly resolved. The Forum noted that they had now moved into new offices and the temporary ticket kiosk had been removed with some works still to be done to the staff parking area. A new bike rack would be installed but disability spaces were now reopen.
Discussion focused how it was hard to predict capacity issues due to closures at the Rest and Be Thankful as this is countered by November being a quiet time of year plus the re-introduction of travel restrictions effecting traffic levels.
Outcome
The Forum noted the update.
Gourock to Dunoon Ferry Service
As there was no one present from the Ferries Division of Transport Scotland to speak to the issues so the Forum agreed to continue the item.
Outcome
The Forum noted the position and agreed to continue the item.
Shore Side Infrastructure at Dunoon
As there was no representatives present the Forum noted the circulated presentation by CMAL which updated them on the Gourock/Dunoon project
Outcome
The Forum noted the presentation.
POLICE SCOTLAND
Chief Inspector Douglas Wilson, Police Scotland, gave an update on matters he had recently been attending which included being back to business in terms of traffic volume and speeding vehicles and stressed that most speeding was done by local people on the main roads and that Police Scotland were producing leaflets and posters to share with community councils to raise awareness through education. He also spoke about working with Roads in terms of addressing the condition of some road signage and trimming back undergrowth.
The Forum noted that work regarding the motorbike noise was ongoing and was subject to joint working between Police Scotland, Argyll and Bute Council and Transport Scotland and that a full update would be available once the matter was concluded.
Graham Revill, Kilmun Community Council highlighted potential speeding by timber lorries at Clachaig and asked whether leafleting haulage companies could be undertaken. Iain Catterwell did not consider that leafleting would be the correct way to address concerns and invited Graham to contact him with information.
Outcome
The Forum;
noted the update; and
agreed that Police Scotland would circulate leaflets and posters about speeding to community councils as soon as they were available for distribution.
TRANSPORT SCOTLAND
VMS and Manual Signs
Neil MacFarlane, Transport Scotland updated the Forum in relation to VMS and manual signs which included that the intermittent issues with the new VMS was because they are solar powered and are not getting enough sunlight.
Outcome
The Forum noted the update.
A83
Neil MacFarlane, Transport Scotland circulated a list of notable Transport Scotland roadworks on A83 and A82 Loch Lomondside for the next quarter as follows;
Location
Works Description
Start date
Duration
Rest and be Thankful
Landslide Mitigation
Ongoing
Ongoing
Glen Kinglas
Landslide Mitigation
November 20
Until Spring
Resurfacing Projects
Scheme Name
Duration
Start Date
TM Type
Timing
A82 Bandry
8d
17-Nov-20
Convoy
Nightshift
A82 South of Falls of Falloch Phase 2
6d
30-Nov-20
Convoy
Dayshift
A82 North of Luss
10d
31-Jan-21
Convoy
Nightshift
A82 North of Aldochlay
10d
14-Feb-21
Convoy
Nightshift
A83 Butterbridge to Dunoon Jct
19d
01-Nov-20
Convoy
Nightshift
A83 Cairndow North Junction
5d
24-Nov-20
Convoy
Nightshift
A83 Drishaig to Strone
3d
01-Dec-20
Road Closure
Nightshift
A83 North of Strone Point
1d
06-Dec-20
Road Closure
Nightshift
A83 Oyster Bar
3d
08-Dec-20
Convoy
Dayshift
A83 South of Succoth Resurfacing
2d
11-Dec-20
Convoy
Dayshift
A83 Butterbridge to Dunoon Jct Ph2
10d
17-Jan-21
Convoy
Nightshift
A83 West of A815 Junction
8d
31-Jan-21
Convoy
Nightshift
Discussion focussed on the use of social media to update people with the message being to check before they start their journey with Twitter being noted as the most frequently updated. The Forum noted that not everyone had access to social media and questioned whether local and national radio stations could fill this gap. Neil confirmed that notification was provided to the radio stations although commented some were better than others at passing on this information.
Scott Brown from the Jacobs engineering group spoke to a presentation shared on the call in relation to the 11 corridor options under consideration for the Rest and be Thankful along with the Design Manual for Roads and Bridges (DMRB) process for the project. The Forum noted that Jacobs were currently at the start of the process in DMRB stage 1 after a 5 week data collection consultation with stakeholders had closed with over 600 responses which were now being reviewed. It was anticipated that in Spring 2021 they will be in position to announce the preferred corridor and the Forum noted that the process was lengthy due to having to follow statutory procedures and practices.
The Forum further noted that the current mitigation measures are hoped to be completed by the end of the month allowing the A83 to re-open and that Neil MacFarlane would speak directly with Bear Scotland regarding the perception that the only diversion route available after 6pm was the A82 when Western Ferries provide an alternative option until 10pm.
Outcome
The Forum noted the update.
PUBLIC TRANSPORT
Reduced Bus Services
Murray Rodger, West Coast Motors stated that whilst working in conjunction with the council they could confirm that additional journeys on routes 480, 482 and 489 have been implemented as of today which took them to 80% normal capacity with updated timetables to be added at bus stops and sent to community councils to put up on notice boards. The Forum noted that in addition the printed timetables will have QPR codes on them to take people straight to the website for the latest updates.
Concerns were expressed that bus services had still not returned to pre-Covid levels of service. Murray Rogers explained that passenger numbers had not returned to pre-Covid levels and they relied on fare income as well as grants to cover their costs. Although the Scottish Government had provided an increased amount of grant, this was not enough to cover the cost of providing the pre-Covid level of service.
Discussion focused on the additional time and expense required to keep the buses safe and clean in light of covid-19 restrictions and how this time needed to be incorporated into timetables to remain compliant with the safety measures.
Outcome
The Forum;
noted the position;
agreed to pass a query from Ronnie McAlister regarding the experience of Stantec in dealing with rural transport issues to Martin Arnold to respond to; and
requested that Martin Arnold distribute updated timetables as soon as possible.
Bus Stop at Rest and Be Thankful
Following on from a desk top exercise to apply for funding and request changes to the TRO Roads had identified actions as follows;
1. A change to existing TRO;
2. Change direction of traffic to an anti -clockwise direction. Adjust signage to suit;
3. Signage for Service Buses only; and
4. Widen carriageway in turning area to accommodate tourist coaches.
The Contract Officer advised in a previously circulated update that they were awaiting a response from Roads regards this and that there was no update from Public Transport.
The Chair asked whether West Coast Motors would be stopping the use of the bus stop between November and the beginning of March, as had been the case in previous years. He pointed out that the weather in November was mild and asked if they needed to stop the use of the bus stop as early as 1 November. Jeff advised that although the weather was mild at present they had to notify the public and register for the amended service. On this basis it is not possible to fit in with milder weather patterns.
Outcome
The Forum noted the position.
Dial-A-Bus
Having submitted his apologies the Contract Manager circulated the below update in advance of the meeting;
We are working on a new leaflet and poster, now that the Dial-a-Bus is back to operating full time. We will disseminate this to forum when it is complete. Currently scheduled to come out along with other timetable publicity material in time for next Summer season. I appreciate that this has been on the agenda for some time, but we are currently prioritising replacing at-stop timetable panels across Argyll and Bute on the run up to Christmas.
Outcome
The Forum noted the position.
Kames Bus Stop
The Forum noted the update from the Contract Officer that Roads had put bus stop cage in most suitable location from a road safety point of view.
Outcome
The Forum agreed to take the item off the agenda.
TIMBER TRANSPORT GROUP
Iain Catterwell, Timber Transport Group updated the Forum with the detail on the works of the Group which included that surfacing works on passing place creation would be completed with tarring done by end of the day and that a feasibility study for a dedicated haulage diversion route in Glen Croe for timber lorries only when the A83 and Old Military Road were unavailable was being undertaken.
Outcome
The Forum;
noted the update provided; and
noted that the voluntary agreement with timber lorries avoiding travelling through Tighnabruaich during school opening and closing times would be issued to hauliers as a reminder by Iain Catterwell.
ROADS UPDATE
Carriageway Roundels and Additional Signage at Colintraive
The Forum noted the below as submitted in the absence of an Officer from Roads;
Colintraive: We are currently pulling together a list of additional road marking works in Cowal concentrating on junction marking refreshment and we will have this location included on these works. We have still to carry out the road marking work to our capital reconstruction sites for Bute and Cowal and this work will be done at the same time. The package of work will be issued before the end of November 2020 with the works to be done as and when the weather allows.
White Lining: We have added the training for using the road marking trailer to our training program which is collated and managed centrally by the HQ team at Lochgilphead for all of Operational services. There is a limited budget for training and so our training requirements are prioritised. Until we can gain the training we will continue to utilise the framework for road marking contractors. The trailer only allows for hand applied road markings and short lengths of edge and centre line to be placed such as give way, stop, disabled bays, parking bays, TRO's, bus stops etc. For long lengths, generally greater than 200m, of edge and centre line this needs to be applied by machine which is done by line marking contractor.
Cairndow: This did get missed the last time the road marking contractor was in the area despite requesting this to be done twice. We are currently pulling together a list of additional road marking works in Cowal concentrating on junction marking refreshment and we will have this location included on these works. We have still to carry out the road marking work to our capital reconstruction sites for Bute and Cowal and this work will be done at the same time. The package of work will be issued before the end of November 2020 with the works to be done as and when the weather allows.
Outcome
The Forum noted the position and agreed that give way lining should be prioritised as a matter of urgency due to ongoing safety issues at road junctions.
Speed Surveys
The Forum discussed the submitted dataset in relation to traffic speed surveys conducted at the start of the year.
Outcome
The Forum noted the position.
Traffic Management in Tighnabruaich, Kames and Millhouse
As there was no one present from Kilfinan Community Council to give an update there was no discussion on the item.
Outcome
The Forum noted the position and agreed to continue the item.
PROPOSED ARGYLL RALLY
The Forum considered a letter and a frequently asked questions update from Mull Car Club which was issued to community councils in relation to ongoing arrangements for Dunoon Presents Argyll Rally due to take place on 25 and 26 June 2020.
Discussion focused on concerns around how proposed road closures might impact on residents. It was noted that Mull Car Club were now engaging well with the community councils and Police Scotland and were open to continued discussion which would be further benefited by consulting with West Coast Motors.
Outcome
The Forum noted the position.
ANY OTHER COMPETENT BUSINESS
None
DATE OF FUTURE MEETINGS
It was agreed that the future meetings of the Cowal Transport Forum would be held;
Monday 1 February 2021; and
Monday 24 May 2021.
New Venue
There have been reports from local residents that rat poison has been spread around the rear of Cowal Golf Club buildings and this has resulted in the death of a small dog and an another developing serious illness. Residents are advised to be vigilant in this area. Argyll and Bute Council have been informed. Our thoughts are with the pet owners in this distressing time.
Whilst the restrictions during the Corona-virus pandemic endure, there will be no formal/public meetings of the Community Council, however councillors will meet briefly and informally on the first Thursday of every month at 49 Hunter Street. These meetings will be subject to observance of all preventive measures current at the time of the meeting.
The introduction of the five levels of restrictions now in operation in Scotland has brought some frustration (and confusion) to many people in trying to negotiate through the new rules. It is cumbersome and is regularly updated by the Scottish Govt. Full details are available on the Scottish Govt. web site, and other relevant information is also available there with links to various agencies.
---
New Legislation for Households.
In February 2021 new legislation comes into effect which will apply to all households in Scotland. Full details can be found by following the link www.gov.scot/publications/fire-and-smoke-alarms-in-scottish-homes.
Basically this change requires that a smoke alarm must be installed in each room most frequently used in daytime and one further smoke alarm installed in each circulation space i.e. hallways/landings. Additionally a heat alarm must be installed in kitchens, and smoke and heat alarms MUST be interlinked. A carbon monoxide alarm must be installed where a carbon fuelled appliance is present, but does not need to be interlinked. It is likely that the legislation may be amended to allow for more time for the introduction of these requirements.
A83 Altermative Route Proposals.
Argyll and Bute Council have considered the alternative route proposals put forward by Transport Scotland and have opted for Option One, which favours a road on the opposite side of the glen from the existing carriageway. The public still have the opportunity to submit their views and opinions using the Transport Scotland website.
Electricity Overhead Line Rebuild Project.
Scottish and Southern Electricity Networks are creating a virtual consultationwhich will be available from 2 November. This is to gain views on proposals to replace the existing overhead transmission line between Dunoon substation and Garelochhead, which connects Dunoon to the wider national grid. The existing line is supported by an old design suite of lattice towers, (pylons) which are close to the end of their operational life. Different structures are proposed and public comments on these are invited.
Police Survey
Police Scotland are currently asking residents to complete an on-line survey regarding their opinions and concerns around Local Policing and community issues. They are seeking as many returns as possible from a cross section of the community to help mould the Local Policing Plan for 2020 – 2023, in order to achieve a large response Police Scotland would appreciate if you could share the link below on your Social Media Pages, Web Pages etc.

Here is the link https://consult.scotland.police.uk/surveys/your-police/
---
---
What Hunters Quay Community Council does for you:
Monthly meetings attended by Councillor Alan Reid and local police
Listen to and action any concerns of residents and relay them to Argyll & Bute Council
Notifications of Planning Applications
Monthly Police Report
Advise residents of forthcoming local issues
What we have achieved to date:
Successfully campaigned against the closure of the A&E department at Dunoon General Hospital
Created and maintained a 'Woodland Walk' (incorporating Early Years)
Maintained the public car park at George Street
Maintained the boat shed for the use of residents
Refurbishment of the railings & benches along Marine Parade (ongoing)
Pavement clearing and cleaning (ongoing)
Successful environmental actions
Installation of gritting bins in Hunters Quay
If you are interested in helping create a strong community for Hunters Quay and would like a Nomination Pack call:
Roland Zielinski
Mobile: 07765 838286
Landline: 01369 701258
Email: roland.zielinski@btinternet.com
Nomination Packs may also be downloaded from www.argyll-bute.gov.uk/elections
Hunters Quay Community Council is your mouthpiece!
We meet on the first Thursday of each month at
49 Hunter Street.
Come along and join us!
---
Welcome to the on-line home of the
Hunters Quay Community Council


The Community Council exists:-

* to promote the interests of the local community
* to canvass the views and opinions of the community
* to express these opinions to local and national government agencies and other interested parties
LATEST NEWS
--------------------------------------------
Jim Crow vandalised yet again - someone perhaps named Kyle - thinks that our favourite landmark rock should be renamed: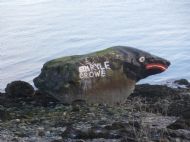 He is even featured on the Pokemon Go game as a Pokestop.
-------------------------------------------------------
If you spot a fault on our roads, whether it is a pot hole or a street light not working, we want to know about it so we can fix it.
You can report any problems with street lighting or faults on the road, such as potholes or damaged signs by filling in the online reporting form here, by phoning the Contact Centre on 01546 605514 or emailing enquiries@argyll-bute.gov.uk.
You can also report street lighting faults by calling RALF (Road and Lighting Faults) on 0800 37 36 35.
Cowal Community Hospital Medical and GP Out of Hours Service
As part of the NHS Highland Better Health, Better Care, Better Value process a Working Group 'Cowal 24/7' has been convened to examine and develop potential options for the sustainable provision of GP out of hours services for the Cowal peninsula and medical cover within Cowal Community Hospital.
The Group is co-chaired by a member of the public (Heather Grier) and Dr Brian McLachlan (Clinical Lead for Helensburgh & Lomond). Membership also includes GPs, councillors, public and Community Council representatives, Scottish Ambulance Service, NHS 24, nursing staff and other health professionals.
http://www.nhshighland.scot.nhs.uk/CHP/ArgyllandBute/PPF/Pages/CowalGPServices.aspx
Copy of letter sent to the 24/7 Out of Hours review board:
Dear M/s Grier and Dr. McLachlan,
At the Hunters Quay community Council meeting on the evening of the 5th April, 2012, which was well attended by all Hunters Quay elected Councillors, members of the public, representative of Strathclyde Police Force and Argyll and Bute councillor, Tom Law, our representative on the Cowal 24/7 Out of Hours Review, gave a full presentation to those present on the then current uptodate status of this review which All present found both interesting and alarming.
Following on from the public consultations / presentations in a few locations that NHS Highland and Review Group members, etc., recently gave and the printed material thereon distributed at these events and with the local paper, etc., we had conducted our own survey with a considerable number of both Hunters Quay residents and others from various other Cowal locations as well as hospital staff and consultants from within and without Cowal to determine the Cowal residents and medical experts, etc., viewpoints on the current 24/7 services and their views on the current many options that have been suggested by the review group that seem to all to be ever more pointed, increasing in number, complication, feasibility and practicality both functionally and medically.
In virtually every case the members of the public were completely confused and baffled by these options and there presentation and expressed the opinion that they thought they were possibly being deliberately mislead / confused and / or there maybe an unacceptable (to them) agenda behind it all. ie they could not understand any of these options, etc., or there proposed method of assessment. The senior and junior medical staff and professional consultants communicated with were equally outspoken in their condemnation and many highlighted simpler and to them better options and many improvements that could be made at Cowal Community Hospital at very minimal cost, if any, that would benefit ALL, patients and permanent and visiting staff and would certainly through the course of a year vastly improve patient services and reduce the overall cost to The Highland Health Board.
We greatly appreciate and laud the opportunity for public participation that the Scottish Government has instigated in this Review but for it to be in anyway meaningful, ALL present at the Hunters Quay recent meeting and those from our own survey felt that progress to date has been more backward than forward, is ever increasingly confusing to the public at large and especially the suggested Matrix proposed to judge the options seems to be to them solely directed to support certain self-interests and certainly can be easily made to give any conclusion that its applicants desire and thus may not give any substantiate-able meaningful appraisal of the given options that the public at large can accept.
The majority of the public in Cowal hold "their" NHS in very high regard and we have been therefore delegated by ALL present last Thursday to appeal to you to respect and honour that regard and not to submerge this review in a "fog of incomprehensible so called management tricks and jargon".
---
Wind Farms
Love them or totally opposed to them you really should look at this from YouTube:
Key water mains project will improve service in Cowal
Wednesday June 15, 2011
Scottish Water is about to start a key stage of its work to provide clearer, fresher drinking water to more than 20,000 customers in the Dunoon and Loch Eck area.
A £3.9m project, due to start on about June 27, will rehabilitate 27 miles of mains in the distribution network served by the Loch Eck Water Treatment Works and help address manganese and iron issues.
Scottish Water is progressing with a separate £3.5m investment at the Loch Eck WTW, which produces the water supplied through the mains.
The project at the WTW, which is expected to be completed later this year, involves the installation of a manganese removal plant to provide an effective barrier to manganese from entering the network.
The work about to start in the network, which will be carried out for Scottish Water by contractors George Leslie, will include the replacement of some existing mains, the relining of other mains and the flushing of pipes.
It will benefit customers throughout the supply zone in Dunoon and a number of areas including Sandbank, Hunter's Quay, Kirn, Toward, Kilmun, Ardentinny, Strachur and St Catherine's.
The work in the distribution network is also expected to be completed late this year. It is starting now so that it is completed at about the same time as the WTW project is completed.
Once the WTW project is completed, tests on the water mains will be carried out and some further flushing of the network will be done.
Manganese is a naturally occurring substance and is no risk to public health at the levels which have been recorded in the area in the past. The Prescribed Concentration or Value (PCV) level for manganese of 50ug/l has been set by Scottish Ministers for aesthetic reasons.
Improvement work on the distribution network has been carried out in the past two years to remove some deposits of manganese. This included flushing operations and service reservoir cleaning. As a result there has been only one recorded exceedance for manganese at customers' taps since April 2008.
However, some manganese is present in the source water for Loch Eck WTW and this could build up in the network and impact on some customers unless it is significantly reduced at the treatment works.
Mr Jim Hassan, Scottish Water's water operations manager, said: "Scottish Water wants our customers to enjoy the look and taste of their drinking water.
"The work we have done in recent years has improved the water quality and this latest investment – together with our project at the Loch Eck WTW - will help make further improvements and ensure customers enjoy clearer, fresher drinking water for years to come."
The silence of the local
Historically, print newspapers have had a central role in communicating important news to the public. That can hold even more strongly for local newspapers which can carry news and information not generally available elsewhere. However the circulation for most newspapers, including local, has been declining steadily over recent years as the Internet becomes an even more effective substitute for it. One way for local newspapers to try to fight this is to have a strong campaigning editor who gives the readers what they need to know on things that matter to them and lobbies on their behalf, such as Bill Jardine who was editor of the Dunoon Observer until his retirement in 2007.
So when a local newspaper like the Dunoon Observer does not publish matters of crucial local interest to its readers when even the nationals are interested in the local issues in question, not only would this seem to be against the public interest, on the face of it this would also seem to be against the newspaper's interest.
On the 10th January 2011, I posted on my website an analysis of Western Ferries, judging it by economic criteria and other benchmarks set by other ferry services, both local and others cited by some as the most expensive ferries in the world. The article was fact-based with the facts checked (and independently checkable), but many of the facts would not be known to local residents. The article is of crucial relevance to a debate about the future of the ferry services that virtually all local residents depend on, directly or indirectly, given the imminent tender of the alternative CalMac service.

Amongst other things the article noted:
Western Ferries fares, including discount fares, were already at least comparable on economic grounds with others that had been cited as the most expensive in the world.
Its profit margins were close to averaging 30% for the last six years for which figures were available, significantly higher than for most other ferry companies, indeed significantly higher than for most other forms of public transport.
It had paid no tax (net) over the last six years, with a £6,000 tax rebate in 2003-04 balancing a total of £6,000 tonnage tax paid in lieu of corporation tax over the six years 2003-09; the issue of whether or not Western is liable for corporation tax is the subject of an ongoing dispute between HMRC and Western Ferries which has still not been resolved.
It is now set to become the monopoly vehicle carrier over the Clyde later this year on the basis of information obtained through Freedom of Information on vessel availability and shortlisted tenderers for the CalMac route.
Issues such as these could all be seen as being of strong local interest, especially since they were based on facts, much of which was in turn based on new research.

The analysis was quickly taken up by For Argyll on Wednesday the 12th January. Before that on Tuesday 11th January a reporter on the Dunoon Observer confirmed that they had written up a story for the paper based my article.
On Friday 14thJanuary, the Dunoon Observer was published but without even a mention of my article and no contact from the newspaper. I e-mailed the reporter to ask what had happened but instead of a reply from the reporter I got an email from the editor which could best be summarized as waffle.
There were others locally interested in the article and why it had not been published and on the basis of the editor's reply I told them that I did not expect to see anything about it in the local paper.
On the same day, Friday 14th January, The Herald carried an article on the Western tonnage tax situation. Later the next week (Thursday 20th January) I was contacted by a national news paper to say they were interested in running a story based on my article.
The Dunoon Observer the next day (Friday 21st January) still carried nothing about it or even the tonnage tax issue, despite Western's tonnage tax issue having been the subject of an article in the Herald the week before.
Wikipedia's entry for the Dunoon Observer says "the newspaper currently has a circulation of around 7,000". In fact, the "view history" link for this entry indicates that that figure has not been updated since the first entry in the summer of 2007. However, for the year 2008 the Dunoon Observer's audited circulation was down to 6406 and for the last six months of 2009 it had fallen to 5225
From this, it would appear that the Dunoon Observer has lost a quarter of its circulation in about three years, and on the basis of these figures there is no evidence the rate of decline is slowing, if anything it would seem the opposite is the case. Ignoring issues of extreme local importance is hardly a way to stem this trend. As I know to my cost down the years, anyone who posts anything which can could be interpreted as not being in Western's interests can expect vitriol from third parties (as the comments on the For Argyll article above confirms). However if a private individual like me is prepared to accept the abuse that inevitably attends this, one would think that no less should be expected from the local paper (as an aside it is worth noting that such vitriol rarely focuses on the facts, and when it does it usually gets the facts wrong).
There are issues which can make for personal tipping points and this is one for me. I am not going to speculate on the specific reasons why the paper chose not to publish these issues or why it did not even refer to them, I'll leave that to others. But there is no point in the local paper campaigning on easy targets such as why there has been no tender for the CalMac service Gourock-Dunoon - not when it continues to ignore the elephant in the room, the issues and effects of Western Ferries' dominance in this area and its likely imminent monopoly of vehicle-carrying post-tender. As the Herald article referred to above confirms, even Western Ferries actively supports the campaign to get the tender done. This is not surprising because as my FoI questions revealed the tender is set to lead to the CalMac route going passenger-only (at best) and a Western monopoly of vehicle-carrying Gourock-Dunoon
There is equally no point in relying on the Dunoon Observer for these matters when there are other modes such as the Internet websites such as For Argyll and old fashioned word of mouth which do better the job they should be doing. And once everyone starts thinking that way, it could also be a tipping point for the Dunoon Observer, if that point has not been reached already. Which is unfortunate, not just for the paper and its readership (not all of whom are logged in to the Web) but also for the good reporters who still work there. And it should be emphasized that there are really good reporters in the Dunoon Observer, there is no evidence the problems lie there, and I do not believe they lie there.
Those with an interest in this can read my original article through the direct link here or at:
http://www.brocher.com/Ferries/expensiveferry.htm
---
Site Last Updated - 16/01/2022 10:38:40