27 July 2015
Success with the A9 overbridge signage
After a long campaign, reason has prevailed and we now have a Merge in Turn sign for the A9 overbridge.
Well done to all concerned. It has come just in time for the opening of the new UHI campus at Beechwood this autumn.
Those who use the road regularly will know that the two lanes were not being used as planned. Hopefully this single sign will do the trick.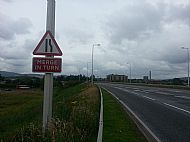 This warning sign on the B9006 approach to the A9 overbridge towards the Inshes roundabout, warns roadusers that the two lanes merge into one, and advises them to merge in turn. Raigmore hospital is in the distance in the centre of the picture.
It means that traffic is to 'Merge in Turn' from each lane. WCC took months to get The Highland Council to put up a sign saying so in plain English, because some drivers in the nearside lane think that the offside lane drivers are 'jumping the queue'. They are not. Click here for an explanation.
For more details see here.